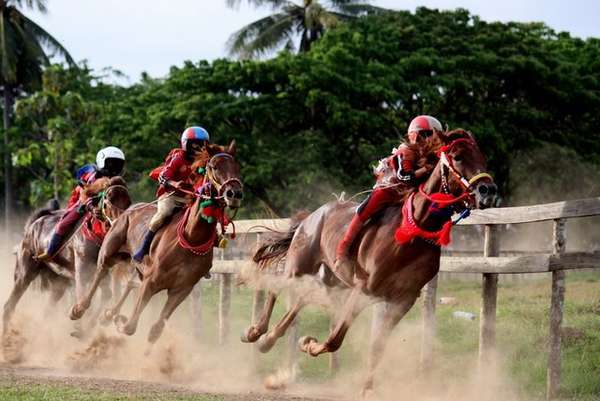 The jockey whose average age under ten years of competing at the forefront in the Valley racetrack Kara, Lepadi Village, District Pajo, Dompu regency, West Nusa Tenggara.
Sumbawa island has a somewhat different character to the island of Lombok, although both are located in the province of West Nusa Tenggara (NTB).
According to the Governor of NTB, TGH M Zainul Majdi, Sumbawa Island three times larger than the island of Lombok.
In addition, the island is ideal for adventure tourism.
"A bit different from Lombok. Sumbawa is more similar to the character Flores (NTT), filled with savanna," said Zainul Majdi during a press conference Grand Launching "Tambora Greet the World", in Jakarta.
Governor reveals not only the natural beauty of a tourist attraction in Sumbawa, but also cultural events.
There are many cultural attractions are packaged for tourism Sumbawa.
"We are no jockeys small, it is only in Sumbawa. Boys aged 6 to 8 years old so horse jockey with finesse incredible. If witnessed, very interesting," said Zainul.
If talking natural attractions, further Zainul, then Sumbawa has Samota or "Saleh, Moyo, Tambora".
Zainul said the Gulf Saleh is a bay in Indonesia with a wealth of fish, seaweed, and pearl.
"If the island of Moyo, who did not know, celebrities (pleasure) there," said Zainul.
island-Moyo
Atmosphere in Moyo Island, Sumbawa regency, West Nusa Tenggara, on Thursday (06/09/2012).
Moyo Island offers exotic nature world class.
The late Lady Diana was one of the famous personalities the world who love to make a trip to the island of Moyo.
Meanwhile, Tambora is a mountain that goes in the history of the world that had rocked the world due to its eruption in 1815 that is touted as The Greatest Eruption.
When the 1815 eruption, the impact is felt by the African continent and Europe.
These events killed 92,000 people and destroyed three kingdoms on the island of Sumbawa is Concentrated, Tambora, and Studio.
The height of the mountain which was originally 4,500 feet, due to the eruption to be 2,850 meters.
"The mountain is not too difficult to climb, could be for a not too unusual climb. So you can visit a lot more people," he said.
However, further Zainul, ease of access to the Tambora is continuously improved.
As expressed by the Head of Culture and Tourism NTB, So Gita Ariadi, Tambora can be accessed through the Port Poto Tano continued overland trip to Dompu.
"Poto Tano is the port most western island of Sumbawa," said Gita.
While Mount Tambora can be accessed through Dompu.
This mountain is located in the district of Dompu and Bima.
Meanwhile, Vice Regent of Dompu, Shamsuddin said it was scheduled for repair of infrastructure, especially bridges and roads, ahead of the show "Tambora Greet the World" in 2015, the event commemorates 200 years of the eruption of Mount Tambora.
Sumber: www.alambudaya.com