Gili Trawangan is one of three small islands located north of the island of Lombok.
Gili Trawangan is also the largest island in comparison to Gili Air and Gili Meno.
Of the Gilis, Trawangan is the most crowded with tourists, such as hotel facilities, restaurant and bar has the most here.
With a length of 3 km and a width of 2 km, Gili Trawangan has a population of about 800 inhabitants.
The most crowded area is the eastern part of the island.


Gili Trawangan is not the vacation destination of Indonesia, so do not be surprised if there till we taste foreign tourists in their own country.
Everything bule bro!
Hopefully with my writing on this blog can attract people to come to Indonesia Gili Trawangan traveled in their own country and that its beauty is unmatched.

How to get to Gili Trawangan?
Gili Trawangan is accessible via the city of Mataram which is also the capital of the province of West Nusa Tenggara.
From the city of Mataram, you need to port the Ward's condition is miserable to cross to Gili Trawangan for about 1 hour.
From Mataram city you can use a taxi with a rate of about Rp.
100,000.
You are not going to stop right on the harbor ward but stopped at Terminal Bus Port Ward, when you will be dropped from the taxi driver offered by cidomo (gig) to take you from the bus terminal to the port at a rate of about Rp.
20,000 for a single person.
If you let people with money and little money to use cidomo please try, but for those of you tourists nan poor beggar like me, it's better to walk from the bus terminal to the port Ward, just 10 minutes' walk really, really deket guaranteed!


Arriving at the boat harbor Ward buy tickets at the counter purchasing similar coffee shop for Rp.
10,000.
Boat will leave when it is full by the other passengers, so please be patient.


Mataram city itself has an airport located in Lombok Praya, about 1 hour from the city of Mataram and 2 hours from the port Ward.
Lombok International Airport is just starting operations in October 2011, replacing the former Selaparang airport is located right in the center of the city of Mataram.
Lombok International Airport (BIL) flights to various cities in Indonesia such as Jakarta, Surabaya, Denpasar, Labuan Bajo, etc..
BIL also serves international flights from Singapore, so for you the citizens who live in Singapore, there is no excuse for not visiting Gili Trawangan yes.
Hehe.


In addition, there are direct fast boat from Gili Trawangan to serve the port of Padang Bai Bali for 4 hours, and costs Rp.
350,000.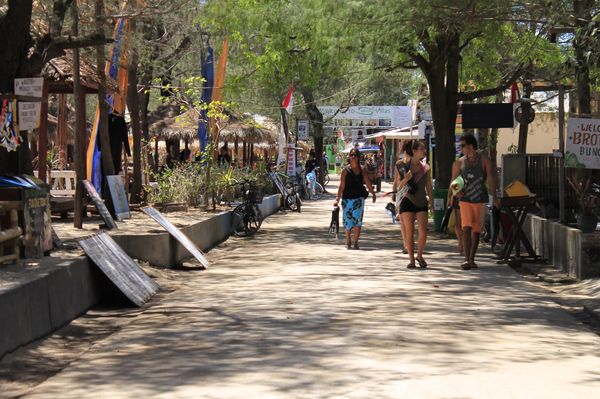 Activities in Gili Trawangan
Snorkeling is very compulsory for those of you who visited Gili Trawangan.
Only spend USD.
100,000 talaga you can snorkel around the three Gili this cluster.
There are 3 locations snorkeling underwater beauty is unmatched, at a second location, you will be guided to snorkel while swimming along the 2km, so prepare power yes.
The second spot is crazy that the most beautiful underwater beauty, cape along the 2km swim will be paid off with all the beauty of the coral in the second spot this snorkeling site.
During the day you will stop for lunch on Gili Air, of course, price does not include lunch snorkeling.


Massage or massage is also an activity that can be done in Gili Trawangan, although the price could double compared to in Bali.
Area along the eastern part of Gili Trawangan, will be a lot of massage places that Abal Abal began to massage place with nice amenities.
Eg body massage with aromatherapy at Villa Ombak for Rp.
300,000 for 1.5 hours.


See sunset at Gili Trawangan is also the activity that makes my skin crawl, sunset in Kuta beach Bali ga does nothing if compared with in Gili Trawangan, other than that, enjoy the sunset while we also added treats Mount Agung in Bali.
Driving around Gili Trawangan
To get around in Gili Trawangan is no public transportation called Cidomo, if in Java called Horse carts are powered by a horse and sit next to the driver pack at work.
Besides, we can also rent a bike to get around on Gili Trawangan with a fairly friendly.
Lodging

There are so many hotels in Gili Trawangan from the upper class until the class started that Abal Abal.
Sadly, many owners there are Caucasians, duh how can we become more advanced so if everything controlled independence strangers.

Things to note

Gili Trawangan is a very small island, so to get fresh water out of the tap was impossible.
Therefore, I suggest you bring a supply of water sufficient packing a lot of Lombok.
However, in Gili Trawangan remains available water packing anyway, but yeah it was him EXPENSIVE if purchased directly there.


You do not have to worry about running out of money, because ATM is available there.
Payment by credit card visa or master card is also accepted.

Signals for mobile phones is also available very good quality there.
Almost all mobile phone service providers and a strong signal is strong-a good one.


The indigenous people in Gili Trawangan predominantly Muslim, many mosques were available there.
Hence also, you should not bikinis or kancutan talaga when touring in the area instead of the beach at Gili Trawangan.